2021 WCCW Conference Info
The 26th Annual White County Creative Writers  Conference will be on the first Saturday of September. This year's conference will be held in a new location which will provide more space and greater comfort for conference attendees. You'll enjoy the upgrade!
Make plans now to attend this year's conference.
• Also, don't forget to check our Writers Contests for 2021. Winners will be announced at the Conference.
Here are the details. 
Date: Saturday September 4, 2021
Registration Fee: $35 (Print registration form here)
Location: The WCCW Conference will be held in a new and improved location this year: the White County Extension Service Building.
The address is 2400 Landing Road, Searcy AR. If you're coming in on Hwy 67, take the Race Street exit toward the down town area. Turn right on Davis Drive and right again on Landing Road. The building is clearly marked.
More Details.
8:00 DOORS OPEN.
At this time you'll register, make your name tag, receive your welcome packet, and choose a seat.
8:30 Conference Begins.
After some brief opening remarks we'll begin our first session.
There will be 6 group sessions.
Each session will last approximately 50-60 minutes.
Luncheon is served at 11:45.
We'll meet in the dining room. During the lunch break, door prizes will be given and contest winners will be announced.
Book Tables / Book Sales.
There will be time to mingle and shop book tables during breaks and lunch, as well as before and after the sessions.
Read Around.
The final session will be a read-around for anyone who wants to participate. You are invited to bring a short piece to share. One page,  double-spaced. One reading per person.
BOOK SALES.
Are you a published author?  You can rent a table for book display and sales. $5.00 for ½ table. (Must be reserved. Please use the registration form.)
FEATURED SPEAKERS AND TOPICS
STACY M. JONES
Stacy M. Jones was born and raised in Troy, New York, and currently lives in Little Rock, Arkansas. She is a full-time writer and holds masters' degrees in journalism and in forensic psychology. Stacy is an avid reader of the mystery genre.
Whether a reader likes their mysteries more hard-boiled or prefers a cozy, Stacy offers three series — all with strong female lead characters and a diverse supporting cast: The FBI Agent Kate Walsh Thriller series, the hard-boiled private investigator Riley Sullivan Mystery series, and the cozy paranormal Harper & Hattie Magical Mystery series.
CONFERENCE SESSIONS: Stacy will be leading two workshops. Let's Get Sleuthy, which will explore the mystery genre; and a workshop on writing about the paranormal, titled Ghosts, Vampires, Psychics and More!

DUKE PENNELL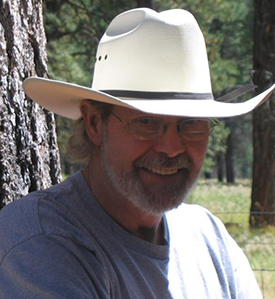 Originally from East St. Louis and southern Illinois, Duke and his wife Kimberly moved to Fayetteville in 1985.
In 2010 created a Western fiction website Frontier Tales, bringing both new and old Western authors to a wide audience. The monthly publication is now in its 12th continuous year.
Duke is a long-term member and current president of the Ozarks Writers League. He and Kimberly also founded Pen-L Publishing in 2012, and have now published over 120 fine fiction and non-fiction books.
Named one of the Top Ten Editors of both Novels and Ezines by Editors & Preditors, Duke has written both fiction and nonfiction but finds more time for editing than writing at this point.
CONFERENCE SESSIONS: Duke will be leading two workshops entitled How to Write a Western Story and Publishing: Traditional, Hybrid, or Self. Which is best for You?

DEBRA L. BUTTERFIELD
Debra L. Butterfield is the author of eight books, which include Claiming Her Inheritance, Unshakable Faith: a Bible study, 7 Cheat Sheets to Cut Editing Costs, and Carried by Grace: a Guide for Mothers of Victims of Sexual Abuse.
She is the editorial director for CrossRiver Media Group Publishing and a former copywriter for Focus on the Family.
CONFERENCE SESSIONS: Debra will be leading two workshops. The first is Who in the Publishing World is CrossRiver Media? In the second workshop, First Pages Review, Debra will discuss several submissions.  If you would like to submit a first page for review, enter contest #21 (First Page Contest) If your work is selected, it will be reviewed in this session.
---
CLICK HERE TO PRINT A REGISTRATION FORM