It's Conference Time Again!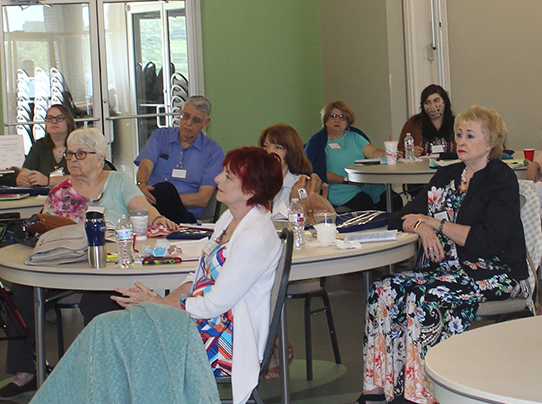 The 27th Annual White County Creative Writers  Conference will be on the first Saturday of September. This year's conference will be held in our new location (same as last year) which provides more space and greater comfort for conference attendees. You'll enjoy the upgrade!
Make plans now to attend this year's conference.
• Also, don't forget to check our Writers Contests for 2022. Winners will be announced at the Conference.
Here are the details. 
Date: Saturday September 3, 2022
Registration Fee: $35 (Print registration form here)
Location: The WCCW Conference will be held in a new and improved location this year: the White County Extension Service Building.
DIRECTIONS. The address is 2400 Landing Road, Searcy AR. If you're coming in on Hwy 67, take the Race Street exit toward the down town area. Turn right on Davis Drive and right again on Landing Road. The building is clearly marked.
More Details.
• 8:00 DOORS OPEN.
At this time you'll register, make your name tag, receive your welcome packet, and choose a seat.
• 8:30 Conference Begins.
After some brief opening remarks we'll begin our first session.
• There will be 6 group sessions.
Each session will last approximately 50 minutes.
• Luncheon is served at 11:45.
We'll meet in the dining room. During the lunch break, door prizes will be given and contest winners will be announced.
• Book Tables / Book Sales.
There will be time to mingle and shop book tables during breaks and lunch, as well as before and after the sessions.
• Read Around.
The final session will be a read-around for anyone who wants to participate. You are invited to bring a short piece to share. One page,  double-spaced. One reading per person.

BOOK SALES
Are you a published author?  You can rent a table for book display and sales. $5.00 for ½ table. (Must be reserved. Please use the registration form.)
FEATURED SPEAKERS AND TOPICS
LAURA CASTORO
USA Today bestseller Laura Castoro has published 46 novels with major publishing houses.  She writes Historical and Contemporary Romance, Westerns, Saga, contemporary African American and Women's Fiction, Romantic Suspense, as well as non-fiction YA, and short stories. Her current release is LOVE ON THE LINE with Harper Collins 08/21.
A sought-after speaker, Laura was the 2005 inductee into the Arkansas Writers' Hall of Fame.  In 2013 she was named a Legend of Romance and awarded the prestigious Romance Pioneer Award by Romantic Times
Laura will be leading two workshops at this year's conference.
1. No Sex, Please! Deals with the task of writing compelling sensual scenes that don't require body parts.
2. Will I Read On?  Focuses on creating compelling openings that make the reader eager to continue.
You can find out more about Laura at her website.
---
ROD MILLER
Four-time winner of the Western Writers of America Spur Award and twice winner of the Western Fictioneers Peacemaker Award, Rod Miller writes fiction, history, poetry, and magazine articles about the American West with more than twenty books, inclusion in many anthologies, and scores of articles to his credit.
Rod Miller's latest novel is This Thy Brother, sequel to the Peacemaker finalist, Father unto Many Sons. Other recent books include All My Sins Remembered, a novel, and a historical novel of the Massacre at Bear River, And the River Ran Red. A historical novel of the Mountain Meadows Massacre, With a Kiss I Die, will be released in October.
Rod will lead two workshops at this year's conference.
1. More than L'Amour: Writing the West in the 21st Century. Western writers capture the defining aspect of America in many genres as they entertain and inform.
2. Where Cowboys and Poetry Meet. How is cowboy poetry made? Tools and techniques with wider application will be demonstrated.
Read more about Rod Miller at his website, writerRodMiller.com. And read about his humorous Spur and Peacemaker Award-winning novels featuring Rawhide Robinson at RawhideRobinson.com. Miller also writes a blog, writerRodMiller.blogspot.com.
---
MICHAEL CLAXTON
Originally from Georgia, Michael Claxton is a Professor of English at Harding University, where he has taught since 2003. He teaches composition, World Literature, and Shakespeare and co-sponsors Harding's poetry club. He writes a weekly column in The Bison student newspaper and researches the history of stage magic.
Michael Claxton is the author of Don't Fool Yourself: The Magical Life of Dell O'Dell, a biography of a pioneering female magician.
Michael will lead two workshops at this year's conference.
1. Make 'Em Smile. Featuring his reflections on 17 years of writing a weekly humor column.
2. The Magic of Biography. Focusing on the joys and challenges of researching one of America's most successful magicians.
---
CONFERENCE DATE & LOCATION:
SATURDAY SEPTEMBER 3, 2022
2400 LANDING ROAD, SEARCY ARKANSAS