We're White County Creative Writers
Since 1995, the White County Creative Writers group has had but one goal – improving our craft. In this process, we have discovered that there are no rules! What challenges one member may come easy to another; what some have questions about, others furnish answers. That's what makes this group work.
We have invited educators, authors, publishers and editors to speak to the group, formed critique groups, had members share learning experiences from other groups or workshops they have attended, and discussed what works and doesn't work for each of us. Over the years, some of the beginners have become masters, and the students have become the teachers. Each year brings new members who come either with one simple question — "What can help make me a better writer?"— or experiences they are eager to share.
WCCW has undertaken such community projects as an annual poetry reading in celebration of National Poetry Day, writing contests for students in White County and an open challenge to groups and citizens of White County to raise funds for the public library.
WCCW also enjoys a close relationship with the staff at Harding University, and is included in many of their on-campus activities. This participation is very special to us, and we extend our thanks to them.
WCCW Group News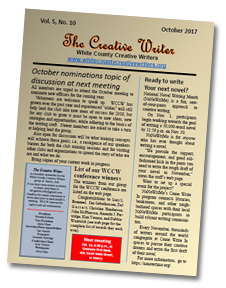 Each month WCCW Press Secretary Del Garrett prepares a group newsletter for easy download offering news and updates of all WCCW activities, as well as additional information of interest to all who are passionate about living the writing life.
You can download the most recent newsletter by clicking the link below. Links to all newsletters can be found in the sidebar column. (Scroll down if you are using a handheld device.)
Download the April 2018 Newsletter
Come to one of our meetings!
If you live in Central Arkansas, then we invite you to come visit us! Bring your pens, pencils, laptops, iPods, iPads, Smartphones, Touchpads, or whatever device you choose to use, (plus your imagination), and check us out!
WCCW meets the third Monday of every month from 6:30 to 8:30 p.m. in Simmons First Bank, 401 South Main Street, Searcy, AR.
22nd Annual Writers Conference, 2017
The 2017 White County Creative Writers Conference was a big success! More than 50 writers from all over Arkansas joined us at Harding University for a special day of training, sharing, and networking. Guest speakers included Peggy Archer, Shannon Taylor Vannatter, and Frank W. Brown.
Click here to read the Conference Wrap-up.
Our beginnings.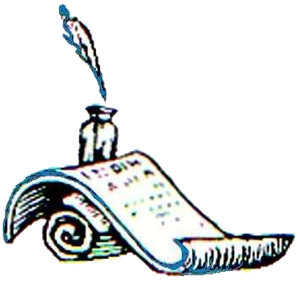 In the summer of 1995, writers David Roper and Norman Martin hosted a presentation, "How to Get Started Writing", at the Searcy Library. At that event, eight people signed an interest sheet in forming the group. When the group convened on August 28, 1995, twenty-four people attended, and White County Creative Writers was formed.
Now maintaining a membership of 20 to 25, with several founders still active, WCCW rotates monthly program planning through the membership. Local speaker, read-around, critique session – whatever the program fare, all is geared toward encouragement and improvement in writing.
The Writers Conference.
On September 7, 1996, White County Creative Writers sponsored a workshop at Harding University in Searcy. Its tremendous success made it an annual event, taking place each year on the Saturday before Labor Day. Writers, editors, publishers, and others in the field share their expertise and advice, and current conference attendance averages 50-75 people.
Over the years, contests and this website have brought WCCW wider attention, and our conference is now mentioned in writers' publications such as The Writer magazine and Writers' Digest.