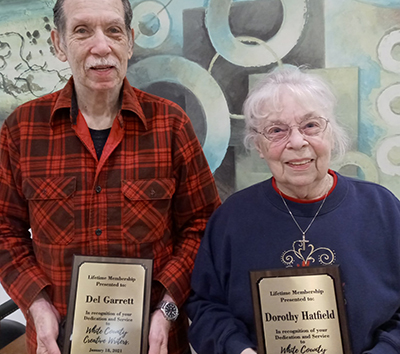 At the WCCW meeting Monday January 18, the group honored two of its long-time members.  Dot Hatfield and Del Garrett, both past presidents of the writing group, received Lifetime Membership in the club for their continued dedication and service and for their long history of achievements as writers and editors.
Both of them are in the Arkansas Writers' Hall of Fame.
Hatfield is the author of seven books, including four novels, a collection of short stories, a one-act play and a collection of essays. Her most recent novel, Worth the Candle, debuted in 2019.
She is a freelance writer whose op-ed pieces have appeared in the Nashville Tennessean, the Arkansas Democrat Gazette, and several regional newspapers. Her devotional material has been printed in The Upper Room, Mature Living, Evangel, Church Educator, and Ministry Now.
After living in Texas, Oklahoma, and Tennessee, she  now makes her home in Beebe, Ark.
Garrett, from Judsonia, Ark., is the author of five novels, most noted for Texas Justice and  Whispers in the Wind — The Search for Jack the Ripper. He has been published in Louis L'Amour's Western Magazine, Pro Se Presents, Blood Moon Rising, Gateway Science Fiction and Storyteller Magazine.  He owns Raven's Inn Press where he publishes books and anthologies by other writers.  He recently began publishing Writers Monthly magazine with advice by professionals.
Their books appear on Amazon.com and in Goodreads.