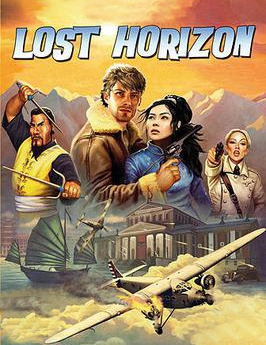 Writers should read. We should read the genre we plan to write, we should read new books, we should read the classics.
I belong to two book clubs, so my goal is to read 3 or 4 books a month. One from each book club and two of my own choosing. A book a week is a little challenging for me, because I'm a slow reader.
In 2023, our local library gave our book club a challenge — a list of books we might read during the year. Not book titles, rather "a book by an author we've never read," "a celebrated author's first book," or "a book with a map." One challenge on the list was "read a book published the year you were born."
Those of you who know me know I'm a little long in the tooth and anything written the year I was born might be printed on papyrus or in the form of a scroll.
Among the many books in my house I found, Lost Horizon by James Hilton. It would do. The inside of the book was very brittle. I had to be careful turning pages, lest I tear off the corner.
Have you heard of Shangri La, the mythical utopia where one never grows old? Well, it was all James Hilton's idea.
An airplane carrying four passengers is hi-jacked on its way to Shanghai. They are taken to Shangri-La, an idyllic valley high in the mountains of Tibet. This lamasary is ruled over by the High Lama, who is said to be over 200 years old, though he appears to be seventy-ish.
While enjoying the hospitality and fine food, the group is mostly eager to be on their way back to civilization and whatever future their lives held. Mostly.
However, the principal protagonist finds Shangri La peaceful. No pressures, time to read, to enjoy music, to follow intellectual pursuits. The one American in the group is not eager to leave, since he is on the run from various sketchy business deals he was involved in. The young diplomat is most eager to leave because he has many irons in the fire.
In addition he has fallen in love with a young Chinese girl, also a guest in the lamasary, and plans to take her back with him, despite the fact he has been told she is much older than she looks. The lone woman on the flight, a Christian missionary, is willing to stay if the High Lama will allow her to start a missionary school there, otherwise she wants to go somewhere she can fulfill her calling.
This book is considered a classic, though it was not as popular as other Hilton works, for instance Goodbye Mr. Chips. I found this story very cerebral. Very little action, lots of description of Shangri La. Quite a bit of telling. Not much dialog. In fact, the missionary lady would lift right out of the novel, she added so little to the story.
In truth, while I like to read and write and listen to music, 100 years of nothing else does not appeal to me. So, I had a hard time feeling what the protag was feeling. No worries, right. But, no challenges?
One mantra for writers, right next to write what you know and show don't tell, is Writers Should Read. So take at least 30 minutes a day and see what other writers have to say.

Latest posts by Dot Hatfield
(see all)