Saturday, June 3, was the AWC Conference in North Little Rock. It was a great day for everyone — especially for White County Creative Writers!
There were about 50 in attendance, including a dozen WCCW members. The keynote speaker was Patricia Bradley. Also, Linda Apple (who will be speaking at the WCCW Conference this year) was inducted into the Arkansas Writers Hall of Fame. (Congratulations Linda!)
As we do each year at the AWC conference, WCCW sponsored a contest. This year our contest was SCI-FI/FANTASY, a short story in the 2000-2500 word range. The winners are:
1st Place: Renee LaViness
2nd Place: Stephen Patrick
3rd Place: Lisbeth McCarty
HM: Sam Sullivan
Congratulations to the winners, and thanks to all who entered the WCCW contest this year.
WCCW MEMBER CONTEST WINNERS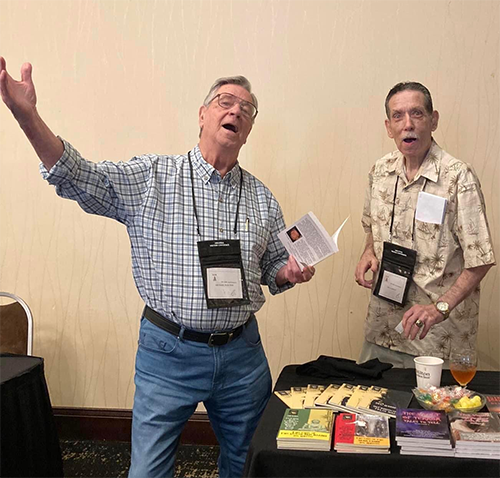 AWC offered 24 contests this year. Several WCCW members entered these contests, and there were quite a few winners in our group! Here are the results.
Mike Bass won second place in the humorous poetry contest.
Gary Breezeel won 4 first place awards in Christmas Short Story, historical fiction, mystery and cozy mystery. He also won 5 second place awards and 5 third place awards.
Del Garrett won first place in 2 contests: short story and sci-fi. He also received 2 third place awards and an honorable mention.
Dot Hatfield received 2 second place awards, a third place award, and an honorable mention.
John McPherson received second place in the essay category, plus 2 honorable mentions for horror short story and humorous poetry.
Don Money won 2 first place awards in creative non-fiction and horror, as well as third place for mystery.
Gary Rodgers – won 2 second place awards for historical fiction and mystery short story, plus 4 honorable mentions.
Peggy Sanders won a first place prize for fantasy and an honorable mention for supernatural fantasy.
Kim Vernon: won first place in non-fiction, 3 second place awards, a third place award, and 2 honorable mentions.
Anthony Wood won first place in the western short story contest.
Julia Zellner won first place in the romance short story contest.

Way to go WCCW Members!